Webb "Peggy", Margaret A.
Leave a CondolenceSend FlowersPrint
March 17, 1950 - March 26, 2016
Margaret Anne "Peggy" Webb parted from this life on Holy Saturday March 26,2016 following a brief illness.  She was a loving wife, mother, grandmother , sister and friend.
Peggy was born on March 17, 1950, St.  Patrick's Day , to James David Cowhig Sr. and Norine Elizabeth Willrich Cowhig in Houston.  After attending schools in Baytown, Texas,Peggy graduated in 1972 from the University of Texas at Austin, studying Secondary Education and French.
Peggy had unwavering love with her husband Dr. Steve Webb for 41 years. She cherished her three sons as they grew up in Dallas. Peggy was a devoted follower of Longhorn and Highland Park athletics.
A lifelong Catholic, Peggy was an active member of Christ the King  and a member of the St Vincent de Paul Society-$ a charity.  Deeply involved in and committed to her community, Peggy was a member of the Junior League of Dallas, former co-president of the Forget Me Not Garden Club, a member of the medical auxiliary and a Chi Omega sorority alumni.
She is survived by her husband Dr.Steve Webb, her son Austin and his family, Kaylee, Grant and Hayden Webb of New Orleans, La; son Stephen Lee Webb of Midland, Tx; sister Nonie Mcwhorter and her husband Doug of Boise, Id; brother Denis Cowhig and wife Cindy of Austin Tx.
Peg was proceeded in death by her parents, brother Jimmy and son Jordan Douglas Webb
Funeral services are scheduled for Christ the King Church, 8017 Preston Road, Dallas.        At 10:00 April 2,2016.
You are invited to honor Peggy's memory by the donation of a memorial  to  the Alliance  for the Mental Illness (NAMI) 2812 Swiss Avenue, Dallas,
"Be kind, for everyone you meet is fighting a great battle" -Philo of Alexandria-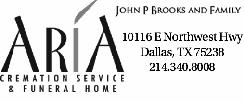 To express your sympathy with a flower arrangement please contact our florist.